Brand Spotlight: SP-Gadgets
SP-Gadgets is a new sponsor on the Street Kingpins skate app. Make sure to subscribe to SP Gadgets on the app. They have next level accessories, everything you need for your phone or POV camera. SP has some really innovative products. they have you covered on anything you need from camera cases to selfie-sticks and camera mounts. Street Kingpins is privileged to have SP Gadgets as a sponsor on the app. Stack up your Street Credit to earn some sponsored rewards from the Street Kingpins Sponsor Shop.
We are here with the United States operations manager Helge König, to learn more about the company.
Thanks for joining us! How are you Helge?
Pretty good, thank you. I am happy to be here and we are looking forward to doing more with Street Kingpins app!
Helge, tell us a little about yourself. Where are you from and how did you first get involved with SP-Gadgets?
I am from Austria. I got involved with SP Gadgets about 4 years ago. The owner Tom was looking for someone that could help him with the U.S business. That is what I do, I am in charge of the U.S distribution for SP Gadgets and the SP-Connect smartphone accessory line.
Tom, the founding member, he is quite the innovator. You guys have accessories for everything one could think of.
Yes, I think the interesting thing about us compared to other accessory makers, is that we do everything in house. We have our own manufacturing facilities, so we don't outsource anything. This is cool because, first-of-all, we can control quality, which we are very proud of. Also, it helps with product availability and it makes it much easier to deal with distributors internationally.
That is cool, you have a finger on the pulse and are able to make anything you want.
Yeah it's cool, we can do that really quickly too. If we decide to make a new product, we can create it very fast compared to others. For example,SP-Connect is currently working with one of the biggest bicycle companies in the world ( I am not allowed to mention the name until the product launch in January 2019) on a specific smartphone mount for some of their bikes.
What we usually do is create a prototype with a 3D printer. Once it looks good we start making tools to actually start manufacturing the product. From the prototype to manufacturing the finalized product only takes us about 10-12 weeks.

That is an incredible turnaround! There are so many useful products SP offers, what is your personal favorite?
Well, I use my iPhone a lot more than I use my GoPro. So, I like our smartphone mounting system/accessories line SP-Connect a lot. My favorite mount is the SP Connect Universal Mount. It is the smartphone mount with the velcro strap. You can basically strap it onto any tube or bar. I use this one all the time, so that's why it's my favorite.
SP United has had a big influence on the action sports industry overall. Who are your favorite skateboarders or athletes?
I would say the biggest skateboarding influence on the brand, and the best skater relationship we have, is with Joey Brezinski. He is just an amazing skateboarder, a great person and brand advocate. I myself, am a very poor skateboarder. I just like to watch it.
Going back on that, you are an OG skier out of Austria.
Well yeah growing up in Austria, of course but I also used to snowboard a lot too. These days I only take out the snowboard if I am riding a pow day. But yeah, I was on skis since 3 years old or even younger. I grew up in the Alps and it is just part of the culture to ski.
So, where can we find SP-Gadgets?
Always check your local skate shop first, we can always send in specialty orders to your skate shop. We are available online at SP-Connect and SP-Gadgets. You can also view our online store locator to find any store that carries SP near you.
What is your take on social media?
Very important. I think Social Media and E-Commerce is so critical these days. I mean what do I say, I am talking with the guys that created on a new social media application. This is the future. Unfortunately, it is becoming harder for brick and mortar shops to stay in business without implementing E-commerce. We like to support them as much as we can, but we see the trend and see what has been happening in the industry. Not just small Skate and Surf shops but also bigger chains we have been seeing going out of business.  
That is an important point to be made. You know, skate shops are the biggest driver in the skateboarding community and culture. It is those shops that we all grew up in that really made the scene what it is. Skate shops have a big influence on why we created Street Kingpins. To connect to the local skate scene and promote underground talent. Street Kingpins is helping bring skateboarders back into those local core skate shops. I believe skate shops are really the heart and soul of skateboarding.
Yeah as an example you look at GoPro. Their cameras used to be a niche product and only sold to specialty retailers at first. Then all the local shops helped them to really lead their image. Without those shops they would not be where they are today. Without those local shops supporting them I don't think GoPro would be nearly as big as they are.
Helge, thank you for taking the time with us to tell the skaters what SP is all about, we appreciate your support.
Thanks, it was a pleasure. We are looking forward to doing more promotions with you guys.
Sponsor yourself with some free SP-Gadgets by tuning in on the Street Kingpins skate app. Any skateboarders on the app that shares their skateboard story and is out there pushing the skateboarding scene, can earn SP-Gadget products in the app. Simply build up your Street Credit and cash it in for sponsored rewards in Street Kingpins Sponsor Store.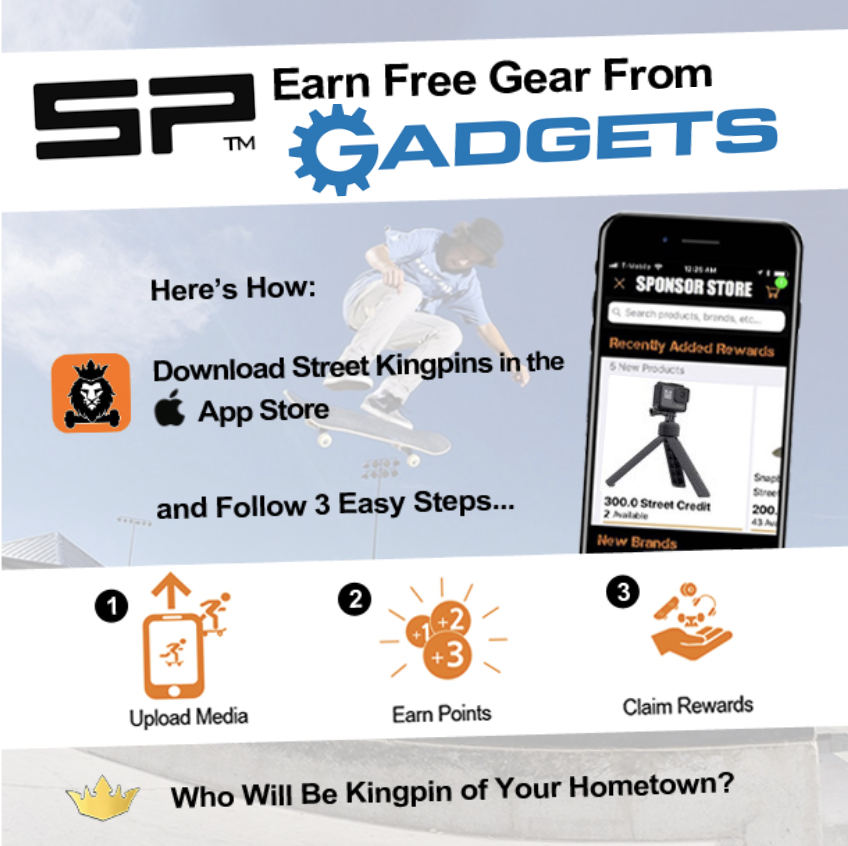 with camera accessories from SP-Gadgets. Cash in your Street Credit today. The GAME IS ON!